Ring Doorbell Security Camera
See & Talk To Any Visitor From Your Phone! 
Click For More Info
See Who is at the Door
It is always a safe practice to keep a safe distance between you and an unknown. A video doorbell lets you view who is at (or approaching) the door from wherever you are so you have plenty of time to assess whether it is safe to open the door.
Speak to Visitors without Having to Open the Door
Having a 2-way intercom built-in the doorbell camera also offers some hidden advantages. Being able to talk to visitors means you can answer the door without opening it. Since you can talk to the visitor via a smartphone, you can answer the door from anywhere and never reveal that you are away from home. This provides an added measure of safety.
Track Visitors That Came While You Were Away
If a visitor knocks at the door instead of rings the doorbell, the video camera captures the image for you to view later. Now you can always know who has come by your house. This is perfect for catching package thieves and having a recording of a potential break in
Offers Clear Views Through Night Vision Technologies
If someone comes to the door at night, it may be difficult or impossible to get a clear view of who it is. Video doorbells offer night vision technology so you can view the images in plain view before you open the door.
Strong Deterrent 
34% of burglars enter through the front door. 23% of burglars gain entrance through a first-floor window. 22% of burglars break into a home through a back door. 9% of burglars enter a home through the garage. 4% of burglars get in a home through an unlocked entrance.
By having physical security visible such as a doorbell camera, window decal and yard signs showing that our home is protected will greatly reduce the chances of your home becoming a statistic in the rising home invasions crimes.
IQ 2 Smart Home Interactive Security System
Rapid Response 911 Dispatch w/ Smart Phone App Controls
Click For More Info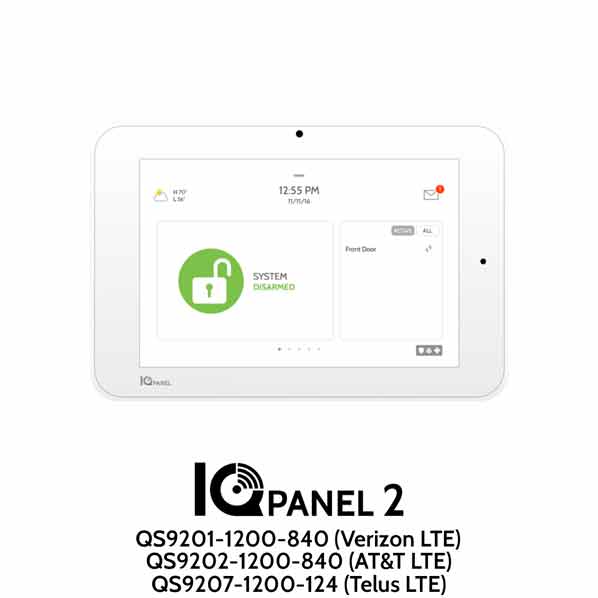 IQ PANEL 2
The award-winning IQ Panel 2 is a 7" HD touchscreen with built-in 5MP camera and multiple wireless radios in a clean, elegant, modern user interface. The IQ Panel 2 keeps you connected to an entire ecosystem of smart devices giving you control over your entire home.  Exciting new features like touchless disarming using Bluetooth and a built-in glass break detector are enabled through powerful software that improves over time through regular software updates.  
---
QS9201-1200-840 (Panel only, Verizon LTE)
QS9202-1200-840 (Panel only, AT&T LTE)
QS9207-1200-124 (Panel only, Telus LTE)
QK9201-AD0C-840 (Panel, 3 Mini Door/Window Sensors, Motion Sensor, Verizon LTE)
QK9202-AD0C-840 (Panel, 3 Mini Door/Window Sensors, Motion Sensor, AT&T LTE)
QK9207-AD0C-124 (Panel, 3 Mini Door/Window Sensors, Motion Sensor, Telus LTE)
LTE
The IQ Panel 2 includes LTE communication for faster speeds and future-proof connectivity. We combine this with Wi-Fi for amazing dual-path connectivity.
BLUETOOTH DISARMING
Every IQ Panel 2 includes a bluetooth radio that allows you to pair up to five smart phones or tablets for Bluetooth Touchless Disarming. 
ENCRYPTION
Every IQ Panel 2 includes the ability to pair with S-Line encrypted sensors, providing secure authentication for doors, windows, and each room of your home.
PANEL CAMERA
Every IQ 2 Panel includes a built-in camera which captures disarm photos along with the date, time and who disarmed the Panel, and sends them directly to your smartphone.
DUAL-PATH CONNECTIVITY
The IQ Panel 2 includes Wi-Fi and LTE radios that work together to create dual-path connectivity to the cloud. 
Z-WAVE PLUS
Every IQ Panel 2 includes Z-Wave Plus, a special technology that allows you to use up to 128 smart home devices like lights, locks, thermostats, garage openers, and more.
GLASS BREAK DETECTOR
The IQ Panel 2 has dual microphones and a quad-core processor and software that leverages both of these as a built-in glass break detector.
GEOFENCING
Every IQ Panel 2 includes geofence technology that allows your home to know your location and perform actions for you when you leave.