Best Rates In Arizona
Get a quote and see how much lower our rates are compared to other companies in Arizona. No equipment mark-ups or inflated monitoring rates.
Free Installations!
Not only we provide the latest home security system equipment, but we also install it at no charge!
Pay Nothing For 6 Months!
New customers pay nothing for 6 months as a thank you gift for signing up!
Click Here For More Information About Our Interactive Smart Home Security Systems
24/7 connection to Rapid Response Monitoring (Connected to local police, Fire & EMT Services)
Interactive Home Security Mobile App (Arm/disarm remotely & get live alerts from anywhere)
4G LTE Celluar Monitoring (No phone line required)
Active Alarm Confirmation (The security panel have a built-in 2-way audio microphone which a live operator that will confirm your personal credentials. This feature is to confirm false or active alarms for much faster response time from emergency services.)
Home Security System Equipment (Comes with door/window sensors, pet immune motion detector, Z-Wave security keypad. (Optional add-ons include glass break detector, panic buttons, key fobs, smoke/heat/carbon monoxide detector . 
Click Here For More Information About Our Home Security Cameras
Active Detterent 2-Way Audio Features (See/speak to anyone that comes on your property even if you're not home, you will be able to give the appearance that you are by having a conversation with the visitor. 
Instant Live Mobile Alerts (Be notified when someone comes unto your property with the cameras advanced motion detection features. From your phone, you will be notified instantly when someone is on your property. 
Cloud Video Recording (Cameras will automatically save your videos to an enteral cloud server that you can access from your phone and even share it to through email, or on social media. 
Click Here For More Information About Our Home Automation Devices
Smart Home Door Locks 
With smart locks,  scenes can include access control. Tapping your Home button as you arrive home will unlock your door and disarm your security system. Tapping the Sleep button last thing at night will lock your doors and arm the system, as well as turning the thermostat down.
And if you're looking for an extra level of convenience, our Scenes can now be voice-activated through your Amazon Echo, with PIN-protected commands for unlocking your doors.
User codes make access easy—eliminating both the problem of spare keys and the need for you to remotely unlock your door. You can customize them so they only work at certain times of day (good for a dog-walker) or expire on a given date. As well as making things convenient, user codes help you stay aware of who's coming and going, with custom alert options that can tell you exactly who just unlocked your door.
Smart Home Automated Thermostat 
The new thermostat lets you save energy simply, with no guesswork, complexity or inconvenience necessary. In fact, you'll barely notice… except when it comes to your power bill.


Fully integrated into your Smart Home Security system, it can do more than other smart thermostats. That's because it has more information about what's going on inside and outside your home, enabling it to take smarter actions that give you the perfect balance of energy savings and comfort.
It learns from all the triggers in your security system
While standalone thermostats use a single motion detector to 'learn' your ideal heating and cooling schedule, ours has access to every sensor in your security system.   Instead of guessing what's happening based on a single room, it takes real cues from your security panel, the motion sensors throughout your house, your door and window sensors and more.
Garage Door Controoler
The garage door is the most common way for people to enter the home. It can also be a big security risk if you leave it open. Now you can easily connect your garage door to your smart home system and stay in control.
Your garage door can be controlled through a mobile app. This allows you to easily see if you left it open, and open or close it from anywhere. Most garage doors made after 1998 can be retrofitted to enable smart control. Make sure it is safe for unattended control with features like an audible alert before it closes, and an auto-stop feature if something, or someone, is in the way.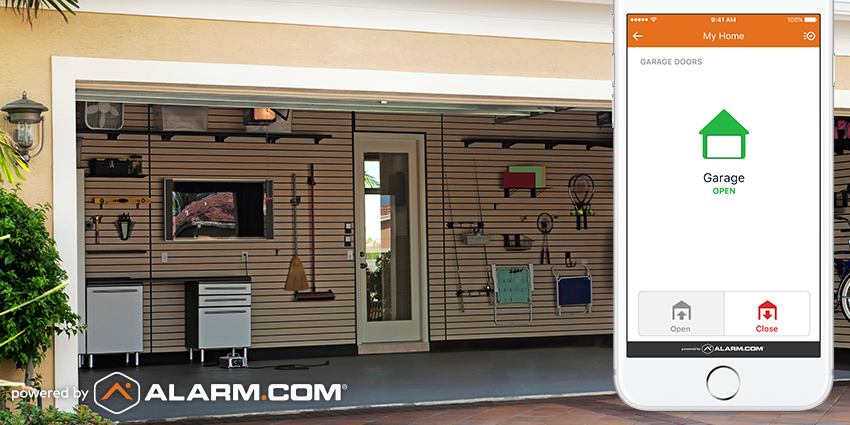 Alexa & Google Home 
Arm your security system
Kids in bed for the night? Finally sitting down for a movie? There's no need to get up again—or even reach for your phone—to arm your security system for the night.
"Okay Google: ask Alarm.com to arm the security system."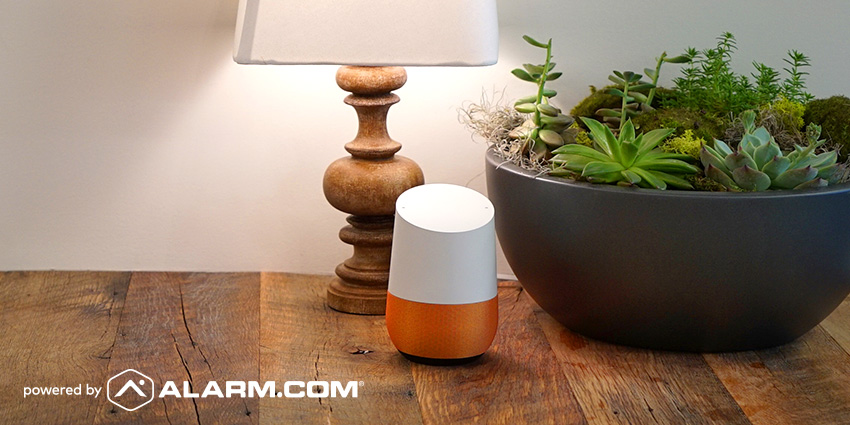 Scenes let you control several devices at once with a single command, adjusting your security system, thermostat, locks, lights, shades and more into useful preset configurations. Alarm.com starts you off with four Scenes – Home, Away, Sleep and Wake Up—and makes it easy to create new ones in your web dashboard for different occasions.

Activating a Scene with Alexa is as simple as "asking Alarm.com" and saying the Scene name; however, with many different wording options, the exact command is up to you. For example:

"Alexa, tell Alarm.com Away."
"Alexa, ask Alarm.com to Wake Up."
"Alexa, ask Alarm.com to run Movie Night."
Select your equipment, and we will send you your free personalized estimate.
Try Our Security Systems Risk-Free
We will let you enjoy a smart home security system obligation free for a few days so you can experience the benefits of owning home security for yourself.
Full Equipment Warranty
Your home security system equipment is protected with manufacture, theft & vandalism warranty. If anything happens to your equipment, we will repair or replace your equipment at no extra cost.
Free Installation & Maintenance
We will install your home security system at no cost & will never charge you with any services that need to be done to your equipment as other companies do. 
Low Equipment Pricing
We are the only home security dealer in Arizona that does not mark-up equipment more than what they are really worth like other companies do.  That is why our rates are the lowest in Arizona because we are fair and offer easy-to-own $0 down, interest-free payment plans. included in the monitoring rate.
Low Monitoring Rates That Never Increase
Most companies charge over $40 for cellular monitoring, but not us! We provide Rapid Response 4G cellular monitoring for only $38 which includes an interactive smart home security system! 
Switch & We Will Pay Off Your Contract
If you are tired of overpaying for a security system and keep getting charged for maintenance services, then switch out and we we will pay off your old contract up to $600!